Franchise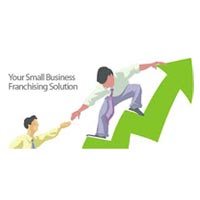 -: An opportunity to build your own business as a 10jobs.co.in Franchise :-
Introduction : Recruitment outsourcing is a business process where employers outsource a section of its recruitment activities to an external service provider/recruitment consultant. This has become the latest human resource practice that is being used in large and middle sized organisations.
Current Scenario of Placement Agencies
Placement consultants handle almost 60-70% of the Indian recruitment market.
Majority of the companies outsource their manpower requirements to placement agencies. In-house recruitments have become insignificant as it involves a lot of time and effort. As a result there has been a substantial increase in the number of job consultants and agencies.
Recruitment agencies maintain a database of employment seekers and scan through it to search for the right candidate when there is a vacancy. Online portals are also availed by these recruitment agencies to search for appropriate candidate.
The 10jobs' Franchise Opportunity
Profitable with an estimated payback period of 9 to 15 months

Provide customized solutions.

Individual attention.

Work with a professional team with high standards of business ethics.

10jobs will responsible to handle all compliance and taxation as per Indian govt. rules.

No need to take any registration / licenses. (Except shop act, if required)
The Franchise Locations
We, at 10jobs, are now looking to expand operations on a franchise basis.

Location is not a constraint with us. we believe in work and dedication.
The Ideal Franchise : The perfect franchisee meeting our requirements would be:-Â 
Having the capacity to make an Investment.

Hard working & able to invest their valuable time on a daily basis.

Self-motivated and having a dynamic personality

Team player, good communicator and self-disciplined with acumen for setting up efficient systems.

Passionate about doing something useful and getting recognition in the community.

Preferably ambitious and ready to take challenges in life. If they not trained, we'll take care of them and their team.
Support by 10jobs.co.in : 10jobs will support your business and help you grow with :-
Start up training and full technical and operational support. 10jobs will provide you cloud based recruitment software and one time full technical training to you.

Support you to Recruit the team and making Manpower policies.

Help you to develop client across the country or within your territory.

Back office operations - Centralised Invoicing & Collections.

Operational processes (Reporting formats, database management, requirement management, incentives etc.)

Continuous interaction and guidance on all aspects of running the business including business development, delivery, finance, manpower issues etc.

Share the online database of the company

Share promotional and Branding Material

Ongoing Business Development guidance and support

Continuous guidance on sourcing against typical requirements (Sourcing methods, target companies, etc.)

Cost Optimization.

Dedicated Access to job portals - at lower cost than market.

Infrastructure Guidance- Infrastructural equipment, Office layout plan, etc.

Periodic business audit
Above all, you will gain wide recognition because of your alliance with and the use of the brand 10jobs. In case you would like to join a winning system, please get in touch with 10jobs today and we would be delighted to talk to you.
Franchise Services